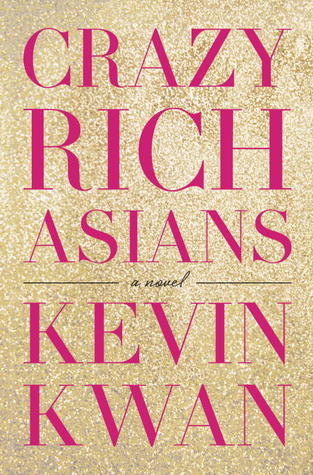 Author : Kevin Kwan
Publisher : Double Day
Genre : Contemporary fiction, Asian fiction
Source : Own Copy
Rating : 3 stars
Summary : When Rachel Chu agrees to spend the summer in Singapore with her boyfriend, Nicholas Young, she envisions a humble family home, long drives to explore the island, and quality time with the man she might one day marry. What she doesn't know is that Nick's family home happens to look like a palace, that she'll ride in more private planes than cars, and that with one of Asia's most eligible bachelors on her arm, Rachel might as well have a target on her back.
Initiated into a world of dynastic splendor beyond imagination, Rachel meets Astrid, the It Girl of Singapore society; Eddie, whose family practically lives in the pages of the Hong Kong socialite magazines; and Eleanor, Nick's formidable mother, a woman who has very strong feelings about who her son should–and should not–marry.
---
MY REVIEW
If you read my review of Rich People Problems you would know that I absolutely adored the book. It's been more than a year since I read it but I wanted to get to the first book before watching the movie and then the second book as well. Sad to say, I did read the book, and I did not like it.
Don't get me wrong, it is still in the same vein as the third book that I read and loved. But either Kwan got really good at the formula of a commercial romantic novel OR my tastes have thoroughly changed. It could be both. I didn't hate it though, I just didn't think it was that good a read.
---
WHAT I LIKED
I adored the way the story started off. An innocent Rachel who just loves Nick for who he is, doesn't realise that he is loaded and then finds out much to her dismay that she might just not fit is an excellent premise. So excellent in fact that I expected it to go like one of those Chinese or Korean dramas. And it did! I am a sucker for those when I am down in the dumps and I was so the entertainment aspect of it did keep me engaged. I also liked the way the characters were etched out. In a story like this that is all fluff it is hard to make the reader like certain characters without seeming like you're making them super nice on purpose and except for Rachel Chu (who is annoyingly good hearted, yeah right) the rest just worked very well. There was the right amount of conflict, the right amount of drama and the right amount of warm heartedness.
---
WHAT I DISLIKED
Here is the problem I had with it. Having read the third book first and the first book second I felt like I was reading about the characters when they were immature and irritating. Since I know what happened with the characters later, seeing how they got there should have been exhilarating. Instead it was rather anticlimactic. They felt immature, idiotic and honestly, not worth reading about. Except Astrid. Astrid is awesome and anyone who says otherwise is a damned fool. So is Colin. Lol.
---
IN CONCLUSION
If you like those melodramatic Chinese dramas where it is mother in law vs new daughter in law then you will adore this. If you are coming from book three like I am, please only read it for Astrid. It is why I got book two as well.
Available for purchase on Amazon India, Flipkart, Book Depository and Wordery.
---